A few kind words from our clients:
"I love the sound. It breaks through the clutter of radio today."
Agency creative director
"You make our on-holds more than just background noise. They're now a marketing tool."
Marketing director
"You're so cost-effective, our smaller clients can afford radio advertising where they couldn't otherwise."
Account executive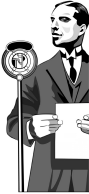 "You give us alternative scripts and multiple creative approaches where others give us one. At lower cost."
Creative director
You're so easy to work with, why would we go anywhere else?
Advertising agency project manager
---
Can we earn an accolade from you?
Contact us for more information or to discuss
how we can create a special audio production for you!
---
Site copyright © 2007-2009 Roger Rittner Productions.
All company, organization, or brand names - as well as copyrights, service marks, trademarks, and/or
other registrations of products or services - mentioned in these productions are the property of their respective owners.
All other content copyright © 1985-2009 Roger Rittner Productions. All rights reserved.